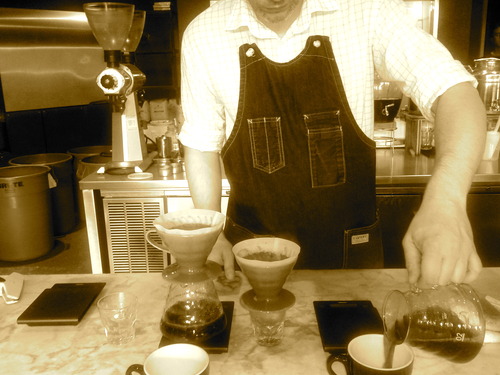 Posted on
October 15,
2013 · Filed under:
Design
Stumbled on this article this morning called an Ode to pour over coffee which totally resonates with me. I am a recent convert to pour over coffee which – as a coffee fanatic – I have to say tastes not just marginally better but a lot better than even French press (which aside of pour over makes the best coffee if you have good beans as the coffee lingers in the water giving it a richer flavor)
In tech or design talk we call this a 'step change' in the coffee experience J . It's not just optimization or marginal improvement. It's  a leap forward. Moreover – as in any design process – step improvement often comes from thinking about the problem in a different way altogether and simplifying the solution.
Think of this:  companies like illy, Nestle, Lavazza and so many others are investing more and more in sophisticated technology to create the perfect  water pressure to extract the right amount of flavor from a coffee, pour over coffee does better using gravity, and just the right cone shape with which the right amount of coffee (26 grams to be precise)  ground to the right grain size. That creates just enough friction for the water to trickle down at exactly the right pace.  A little too fast and the coffee is watery and tasteless. A little too slow and its too dense and bitter.
So there you have it – a better result done manually. Simplicity always  beats sophistication when executed right. You are more in control of your coffee taste, you enjoy the process more, it tastes a  lot better and cost a fraction of the cost of any coffee a machine.
All you need to make pour over coffee is a V60 dripper which you can get on Amazon fro $20, and some paper filters.  A drip kettle helps to direct the water with precision but its not necessary.  You need quality beans and a grinder and that's it. If you want to be proper about it you also need a mini scale to measure the amount of coffee you put in but it's easy enough to figure it out – in fact I prefer using my own  barometer to get it just the way I like J
Like many great products pour over coffee has created a new kind of social experience. New coffee bars are cropping up in Brooklyn and Manhattan which make a great pour. Watching the coffee being poured slowly and in steps is a big part of the experience It's akin to watching sushi masters behind the counter in a great sushi bar. It engages with the customer in ways that just getting it out of a machine doesn't while taking in the odor which is much stronger and sweeter than the burnt taste of espresso. It's pure enjoyment. Toby's Estate is one of my favourite places in Brooklyn which makes a mean pour.
With a touch of irony – I am writing this at 7am in a hotel in san Francisco , the crappy  illy machine which I tried to use in the room in desperation isn't working,  I've been writing about coffee  enough to make me smell  it in my head, and  I was just informed me they do not do pour over coffee here as you'd expect… so I may have to get out and find one J